November 13, 2020
News List
MUTEK wins the 35th Grand Prix du Conseil des arts de Montréal
The 35th Grand Prix du Conseil des arts de Montréal ceremony was held virtually today. MUTEK is deeply honoured to have been awarded the Grand Prize, along with a $30,000 grant, for its 20th edition that took place from August 19 to 25th, 2019 in Montreal.
Beyond this anniversary edition, this distinction emphasizes twenty years of passion and daring in offering innovative, diverse, and exciting programming that showcases the creative abundance of Montreal, Quebec, and Canada, while committing to parity and inclusion. By supporting the artistic communities of the music and digital industry since the 2000s, MUTEK has created a thriving ecosystem, unique in the Americas, with exponential international reach. Now present in six cities on three continents, MUTEK exports Quebec know-how in electronic music and digital creativity, while attracting audiences and professionals from around the world. Each year, nearly half of the participants come from outside Canada for its annual festival, but also for its forum—a marketplace of ideas that explores the impact of technologies on our societies while developing new business opportunities.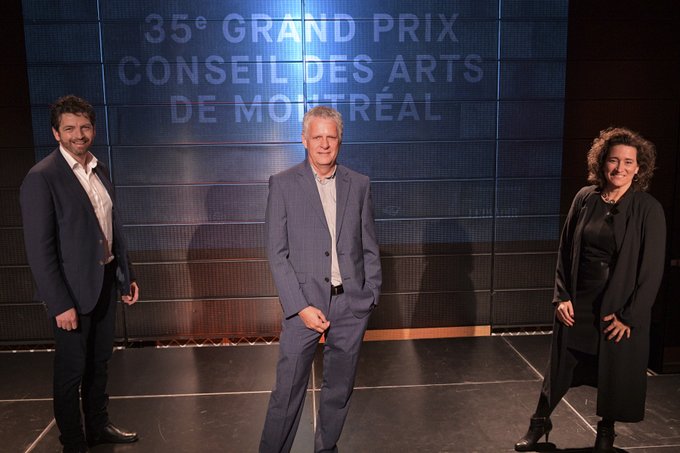 "[...] I would like to dedicate this award to the artists and the public, to all our audiences in fact... because to a certain extent MUTEK is a conveyor belt and our work is facilitated by the quality of what is on both sides. We have an exceptional artistic community in Montreal in our field... and our audience (from here and elsewhere) is fantastic, attentive, curious, appreciative." Alain Mongeau, General and Artistic Director
This year, MUTEK continued its transformation by adopting, for the first time in its history, a hybrid format for its 21st edition. Live performances of digital art and electronic music took place at the Cinquième Salle at Place des Arts and at the Société des arts technologiques last September, in addition to a custom-designed virtual platform that featured lectures, panels, and the digital art exhibition Distant Arcades. To allow more people to live again this online festival experience showcasing local and international talent, the MUTEK virtual platform virtual.mutek.org has just been reactivated and will be accessible free of charge until November 30th.
The MUTEK team would like to congratulate all of this year's finalists: Alchimies, Creations and Cultures, Segal Centre for Performing Arts, Communication-Jeunesse, Dance Company Ebnflōh, La Chapelle Scènes Contemporaines and TOHU, cité des arts du cirque, MAI (Montréal, arts interculturels), MOMENTA | Biennale de l'image and Toxique Trottoir; as well as the members of the jury, the Caisse Desjardins de la Culture, Télé-Québec, PHI and Le Devoir. MUTEK would like to recognize the Conseil des arts de Montréal's commitment to the diversity of voices that make up its community. Thanks to its unwavering support over the past two decades, MUTEK has become a platform that testifies to the extraordinary creative vitality of our city.
Media
Radio-Canada: "Le festival MUTEK remporte le 35e Grand Prix du Conseil des arts de Montréal"
En Toutes Lettres: "MUTEK reçoit le 35e Grand Prix du CAM"
24 Heures: "MUTEK lauréat du 35e Grand Prix du Conseil des arts de Montréal"
La Presse: "MUTEK, lauréat du Grand Prix"
Métro: "MUTEK lauréat du 35e Grand prix du Conseil des arts de Montréal"